As I may have explained last year, in efforts to elude other hunters I've shifted my elk hunting locations several times in past 4 years. The area I spent 2014 and 2015 had a lot of bulls and very little hunting pressure. Sounds great right? However it also possessed another very strange characteristic. Up until the last week of the season the bulls in that area were 100% uninterested in any vocalization or rutting behavior. Main obvious reason- there were no cows! It was very strange to spend days of September amongst bull elk and not hear a single bugle. Quite honestly it was very disappointing as strategizing and calling is the entire reason I love to archery hunt elk. Non-vocal elk are typically a result of intense hunting pressure, and I'd finally discovered an area with little to no hunters, so it made no sense at all!
So I decided for 2016 I needed to change locations once again. I decided to move to an entirely new region as I also very much enjoy exploring Idaho. Many hours of pouring over maps, Google Earth and property ownership info, along with a couple actual scouting trips led me to a new area that held a large population of summer range bulls (IMGrr1). The lack of well traveled roads into the area and established camp sites led me to believe this area was also overlooked by most hunters. So my hope was that come August 30th, the elk would still be there and hunters like myself would not.
My longtime friend Brian from Bend joined me for the first few days of the season. We were stoked to find no other hunters, and the bulls I'd seen during the month of August were still in the area. We explored this new range with many, many close encounters and near shot opportunities at various sized bulls (IMGrr2,3,4). We heard a few bugles and saw at least one cow, good early season indicators for a return to "normal" elk hunting. Many times we had bulls come in to our calling setups, but without any bugling or response of their own. At one point I was able to stalk to within bow range of 4 mature 6x6 bulls. But the wind shifted as I was just about to have a clear shot at the nearest. Our opening week was encouraging, filled with lots of close encounters.
The following week I made another trip back and again found no other hunters and plenty of bulls. I had several close calls before shifting wind occurred, and was even able to pass up two opportunities at small bulls. Still however, not much for bugling activity or interest in calls. This was very curious given these bulls were completely un-harassed or pressured by hunters. One would expect them to be very responsive to calling.
Third week of the season was another solo trip for me. Perched high atop a ridge, the early glow of sunrise revealed a group of 8 bulls in a meadow below me. A few minutes later I spotted another group of 7. All bulls, not a single cow. "What the hell is going on?!" I wondered. "Where are all the cows?!" This new area was turning into a bazaar repeat of my previous location. Later that morning however a few of the bulls did begin a volley of bugles as they dispersed to their various bedding areas. I pursued with several close encounters before eventually hooking into a legit calling exchange with one particular bull. Everything was perfect as he responded instantly to my calls and branch-rubbing racket. When he reached about 60 yards of me I was able to see he was a very large mature bull- the kind of bull I've always dreamed of. (IMGrr4.5) At about 50 yards he paused and began rubbing a pine within the lodgepole thicket. I quickly took this opportunity to advance into shooting range and safer down-wind angle. With an easy 40 yard shot before me I waited for him to look away or block his vision so I could draw my bow. My guts twisted as I saw his nose begin to bob in the air and I new the deal was blown. The archers nemesis (the wind) had pulled yet another physics-defying stunt and somehow piped-in to tip the bull off. He whirled and trotted away, ducking and twisting his huge rack gracefully between the trees. My level of frustration at that moment can not be explained with words!
To that point in the season I'd had many opportunities, maneuvering within bow range of 16 different bulls. 14 of the times the wind had swirled and blown the opportunities in the final moments. Two times the wind held for the 2 smallest bulls I'd encountered, which I'd passed up. The box score of 2-14 was grinding and made any optimism or hope feel nothing short of naive. The wind in this place seemed to be particularly defying. Every direction I'd head it would shift and blow my scent far in front of me. So I'd turn the other way and rearrange a different strategy. Same result. It felt simply impossible to do anything with any hope of success. No prevailing wind or compass heading was dependable, no time honored logic of rising or falling thermals could be trusted. It was like shaking a box with a rubber ball inside, constant rebound and zero predictability.
That was the second to lowest point of the day. After making my way to the area I'd planned my evening hunt the wind continued to shift from N,S,E & W. My confidence was low as I entered a panel of timber where I was certain I'd encounter elk. I covered up in full camo and knocked an arrow as I crept through the areas I expected to find bulls. I questioned the intelligence of pursuing elk with such shifty wind, but I had to do something with my precious hunting time! I wasn't but 60 yards into my planned loop before I spotted exactly what I was hoping to find. Ahead of me a single, medium sized bull fed through the patchwork of old growth timber and fresh Christmas-sized trees. It was the ideal scenario for a stalk. With the bull alone there would be less sets of eyes to keep track of, and the act of feeding kept the bull distracted along with constant chewing sound to reduce what noise he may notice from my approach. I moved swiftly and silently when each tree blocked his view. I knew it was only a matter of time before the wind would eventually shift in his direction, so I stepped with urgency when I could. In a matter of minutes I'd closed the gap and reached a point where I could see the bull would eventually walk through. I'd have a clear and broadside 35 yard shot, if the bull made it there before the wind tipped him off.
With my feet set, backpack and all my gear still on, an arrow knocked and focused as I could be, time crawled as the bull's pace seemed to slow. It felt like forever as I waited for him to reach the shooting lane. My heart pounded in my chest and I tried to control my breathing to keep composure in check. (I still get incredibly overwhelmed when I'm close to any shooting opportunity.) The wind began to blow and I could feel it twist around and eventually blow against my back. I cringed in anticipation of the tell-tale body language of an elk sensing danger on the wind. But somehow his head never stopped rocking along the grassy forest floor. Finally the bull approached the bullseye zone and I drew my bow as he stepped into it. The motion immediately caught his attention as he raised his head to look right at me and halted in his tracks. It was too late though, as he was now right where I needed him and presenting an ideal shot. I released my arrow and watched with great relief as it disappeared into the side of the bull within an inch or so of where I was aiming. I dropped to my knees then rocked backward as I unbuckled my heavy pack and released a great sigh of relief.
I've had some harrowing experiences tracking and recovering bulls over the years. And because of that I've gained a wealth of tracking skills when blood trails dry up for one reason or another. The placement of this shot however left me with little concern as I approached the trail following a standard 30 minute waiting period. The blood trail was strong and flowing from both sides of the bull, confirming my arrow had passed completely through the elk. But I had not heard him crash to the ground in the initial moments after the hit, something that seemed a bit curious. An hour or so later the blood had trickled to a few drops every 10 yards and we'd covered over two hundred yards in total. It was getting late, the western sky was turning orange and alpenglow light tinted the spectacular view below me. "Why were these tracks still going- how could this bull have stayed on his feet this far after a shot that was so ideally executed?" I slumped to the ground and tossed my pack aside as I confronted the situation at hand. At this late hour and with the trail still unresolved, it was decision time: either leave the trail overnight to avoid pushing the bull further, or stay on the trail a little longer in hopes he was not far. My heart ached as I swallowed the bitter pill of considering that I was on the doorstep of loosing this bull. After a deliberate self-contained debate, I declared to myself that the hit was ideal, a passthrough of both lungs. I had to keep confidence that the bull was indeed down and must be close. Looking ahead, a thick stand of dark timber draped over the steep sidehill we were traversing. "I'll follow through that stand then pull the plug till tomorrow." I concluded. Within a few yards of entering those trees, I spotted antler tips, motionless and horizontal on the ground! (IMGrr5, 6)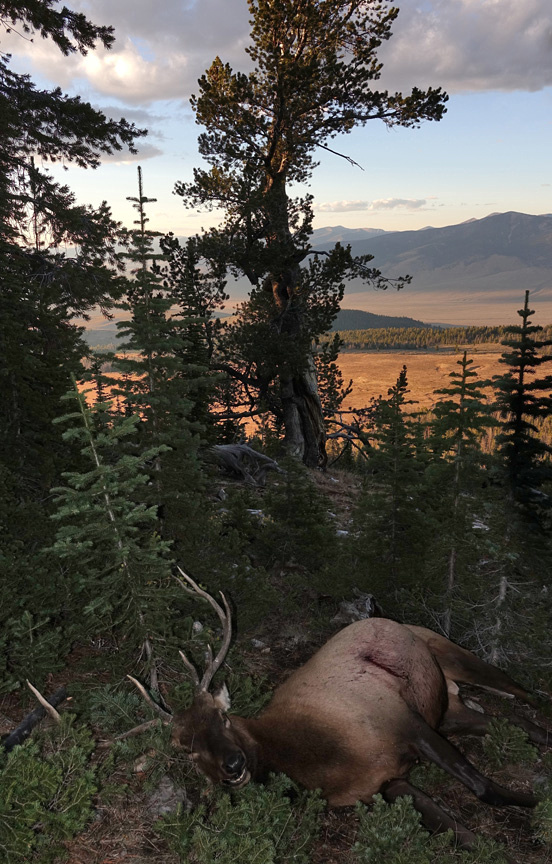 Another twist to this new area was the presence of wolves. Nights prior I'd heard their haunting sounds with the falling of dusk. At first, just one would initiate a solemn sequence of notes. Then, from quite a distance away more would join in. It seemed they spent the days apart, then at night would call out to initiate the evenings activities- whatever wolves do at night. I tried to keep this though at bay as I swiftly worked to take my bull apart, into well-practiced pieces small enough to pack one at a time. The rear quarter and rump went first. The backstrap from the hip to the back of the neck came off next. It was while I worked to remove the front shoulder and brisket I that I reached the point my headlamp was needed. As I stood up to stretch my back and relax my shoulders it started. Below me the chilling should of wolves lofted into the sunset. I promptly concluded that I'm no mountain man, and packed what meat I had ready to go into my backpack. Then I covered the bull with my coat, vest and bow. I drained a piss in 4 spots around the bull, marking the site as human property for any marauding critters to avoid overnight.
The next morning I arrived early to find some disruption. To my great surprise the coats had been thrashed, bloodied and pulled from the bull. My bow was on the ground and covered in bloody paw prints. It was like nothing I'd ever seen before. Over decades of past experience bears, coyotes etc had never touched meat left overnight in this fashion. I guess wolves are bolder however, and I counted myself very lucky that I'd already removed and bagged the accessible prime meat, and all the wolves did was gnaw into the areas I'd already made my cuts. Not more than a few steaks were lost. The next few hours I enjoyed the experience of field dressing the remainder of the bull. Something I've done may times before but this was the first time as a solo venture. It was a beautiful morning to be on a mountain top in Idaho, and I savored the solitude of the moment while basking in the satisfaction of success. It was awesome! (IMGrr7)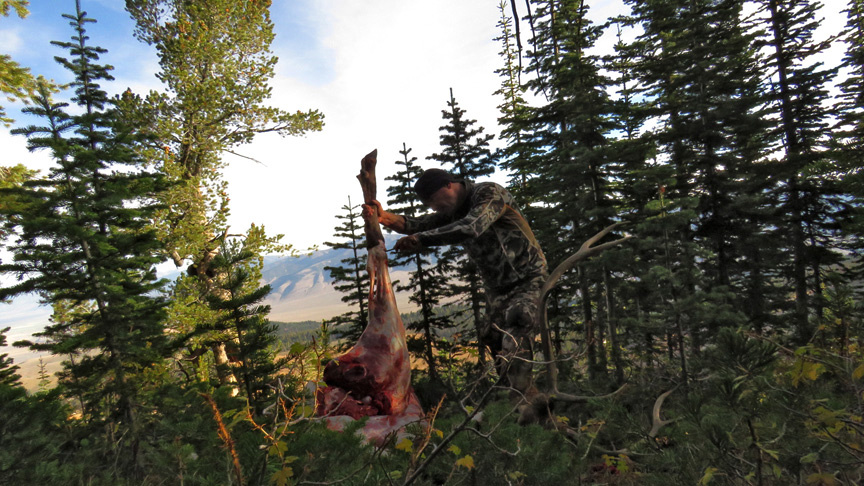 Feeling a tad ashamed that I hadn't stayed overnight to defend my harvest, I considered another challenge to make this experience as fulfilling as possible. I decided that if I wasn't brave, I'd strive to be tough! I doubled the loads I'd normally carry in each trip, figuring I could pack the bull just under 2 miles to the truck in 2 trips. (IMGrr8,9) The loads strained my body to it's max. But it felt great and since I'd worked very hard leading up to and during the season to be as fit as possible, my body handled it well. I'd stop each half mile and sit for a few minutes, then recover and amble on. By 1:00 I was back at my truck with the entire bull loaded and ready for the drive back to Boise.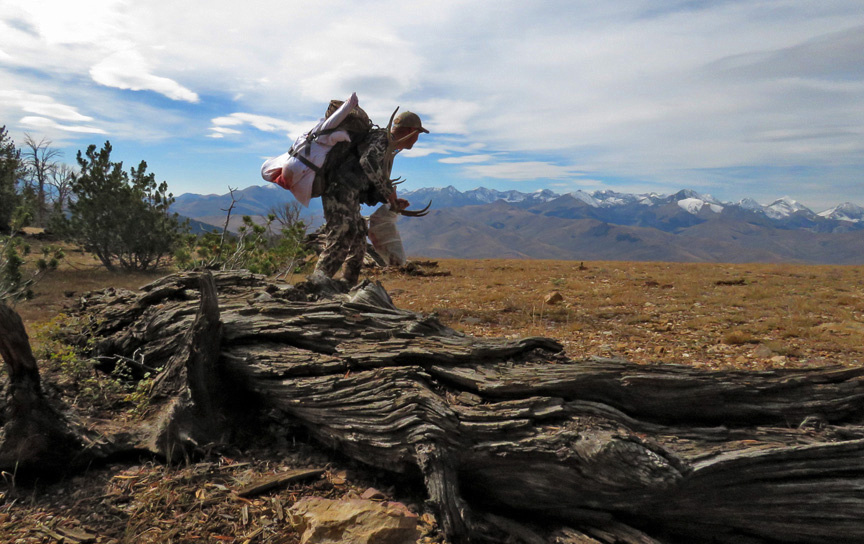 For the final few days of the season I once again teamed up with Brian as he set out to fill his Idaho tag for the second year in a row. Idaho did not seem to happy to have him back! We were met with 3 days of intense wind, rain and fog. (IMGrr10,11,12,14) To make matters worse, the peculiar situation of these "alternative lifestyle" bulls persisted. Still- not a cow could be found, and the many bulls in the area showed only marginal interest in any calling. They did however give us just enough engagement that we were able to locate bulls on occasion, and bring a few in to calls. So between that and the simple density of bulls in the area we enjoyed a few very active days when the weather allowed. Brian had shot opportunities at a handful of respectable sized bulls, but for one various reason or another we just never found the perfect scenario for another harvest. (IMGrr13)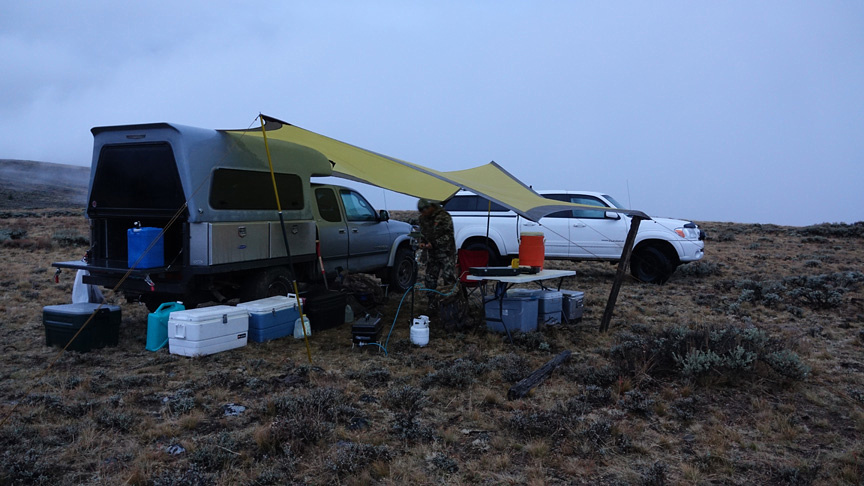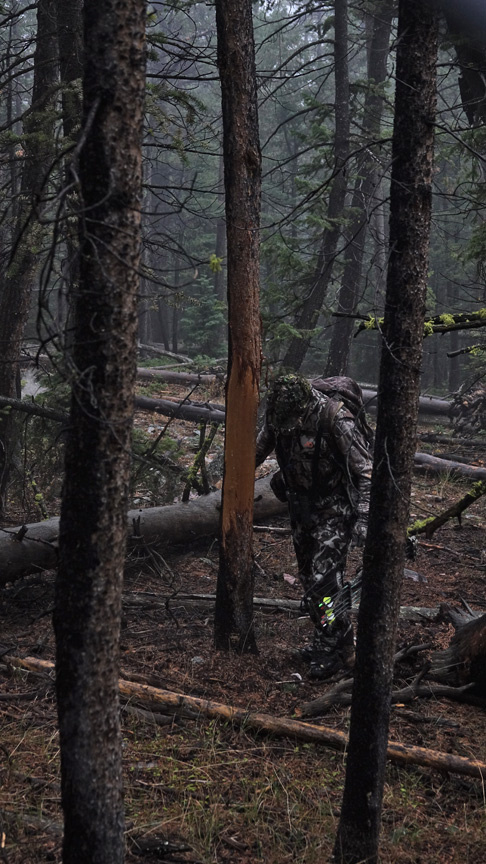 Throughout the season between Brian and I, we figured we were within bow range of bulls on average about 2.5 times per day. Pretty incredible and due in part I'm sure to the strange all-bull and no breeding behavior. Overall it felt like a mixed bag- blessing in the lack of ever-vigilant cows that so often disrupt anything the bowhunter is trying to accomplish in typical bow season elk calling and hunting, but also a curse to spend yet another September in country thick with bull elk and not be able to enjoy the frenzied chaos of hunting elk in the rutt.
I'm not sure what next season will hold, if I'll give this area one more year or yet again move on to explore more of Idaho in my search for elk hunting nirvana. Either way, you'll hear all about it in the next Rutt Report!
Thanks for reading this far and coming along!
Bryan